SIZE - 1050MM INTERNAL DIAMETER
Approx 8 x 10' Pizzas with fire
COOL-DOWN TIME - 72 HOURS
SPACE REQUIRED -
1500mm x 1600mm
<i class="fas fa-thermometer-empty"></i>
FINISHED OVEN WEIGHT -
1250KG
Size: 1050mm Internal Diameter
BUILDING AN OVEN STAND
To help you build a stand suitable to support our D105 PreCut Brick Oven Kit, we've put together a detailed guide to walk you through the process. Our suggestion is to build stand walls using bricks, Adbri Versaloc Interlocking concrete blocks, or Besser blocks, which are filled with concrete and reinforcing steel. A suspended slab of reinforced concrete is then formed up and poured to create the benchtop to support the oven. The stand must be built on reinforced concrete foundations - if you're building on soft ground you may need to consult a builder to ensure your foundations are adequate.
We recommend that you build your stand to a height in the range of 920mm to 1120mm height from ground level. The key is to build to a height that allows you to see the food that's cooking without bending down. You'll spend a lot longer looking into the oven than you will using your oven tools, so build your stand to a height that allows you to do that.
We have put together detailed instructions showing you our suggested process for building your Wood Fired Pizza Oven Stand, and determining the best height for the stand, please see the links below.
To help in the process of building a stand for your oven we have designed several layouts, to give you some ideas and inspiration. These layouts use the Adbri Versaloc 150mm series, and show the dimensions to build to, as well as the number and type of blocks required, as well as the volume of concrete needed to pour the foundations, cores and suspended slab.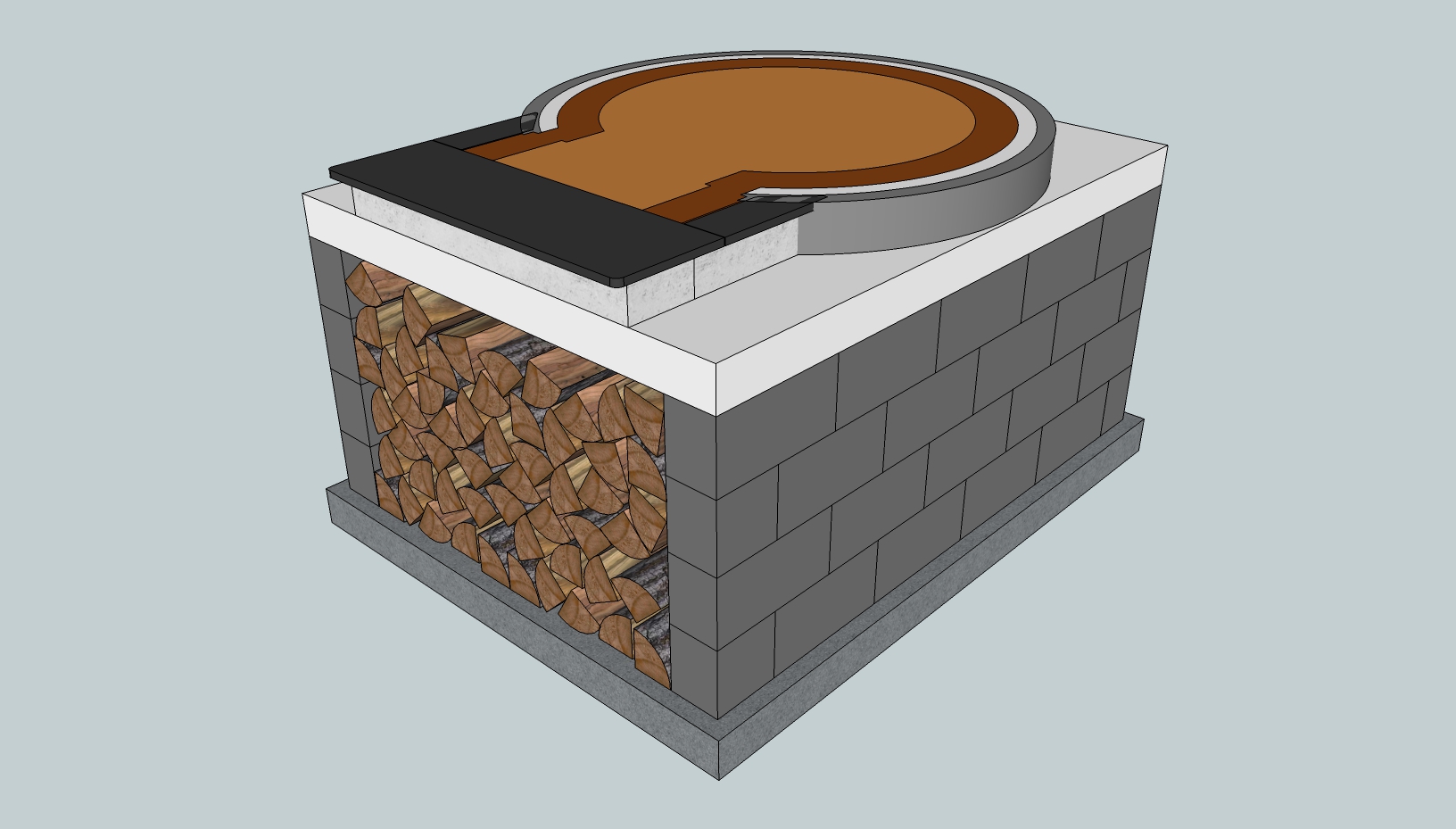 D105 Straight Stand
This is the most common stand layout that we see being used, perfect for a straight-on build, with space for 3/4m³ of firewood.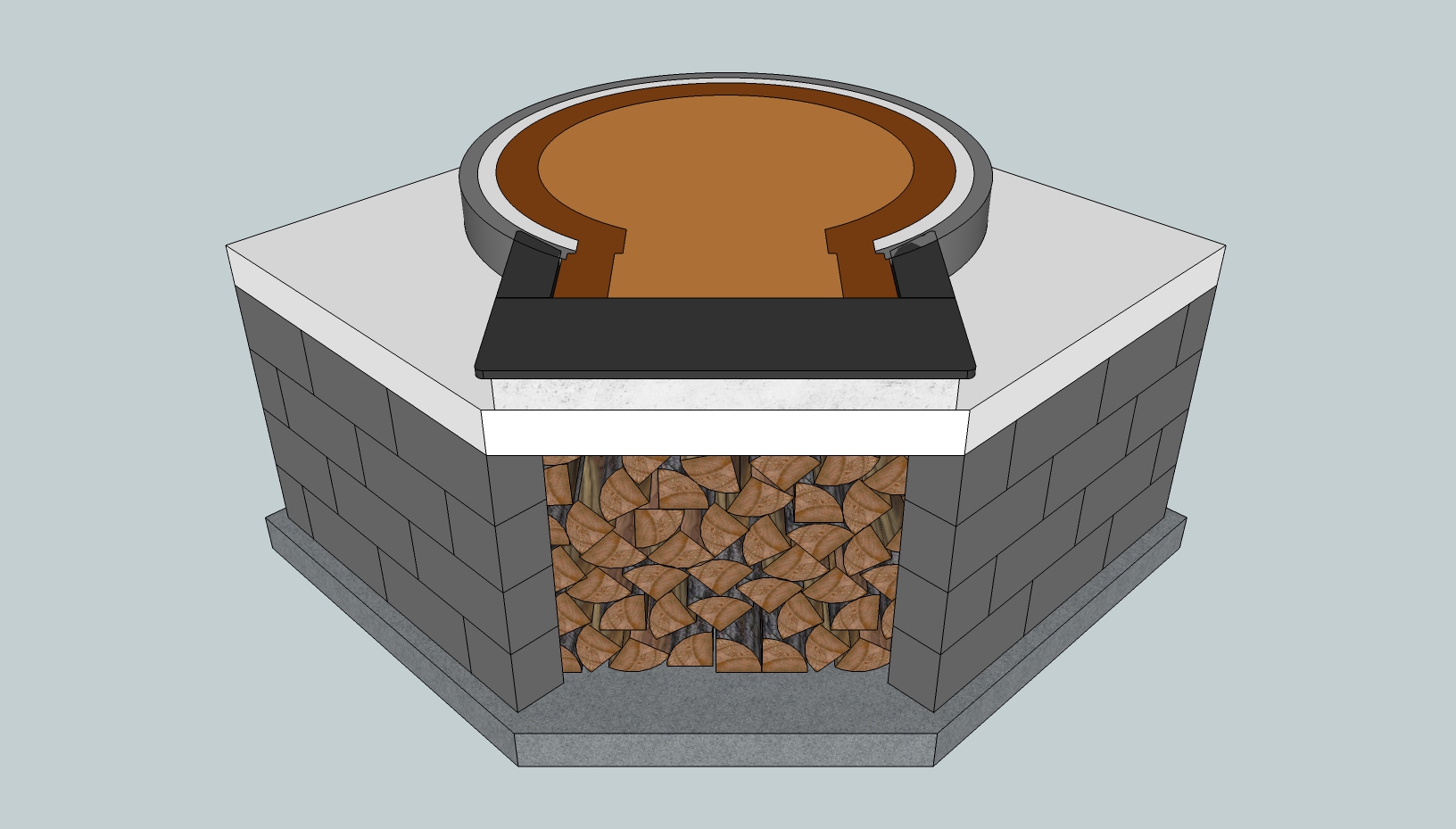 D105 Corner Stand
If you're building into a corner then this layout is well worth a look, with space for 1/2m³ of firewood and a landing in front.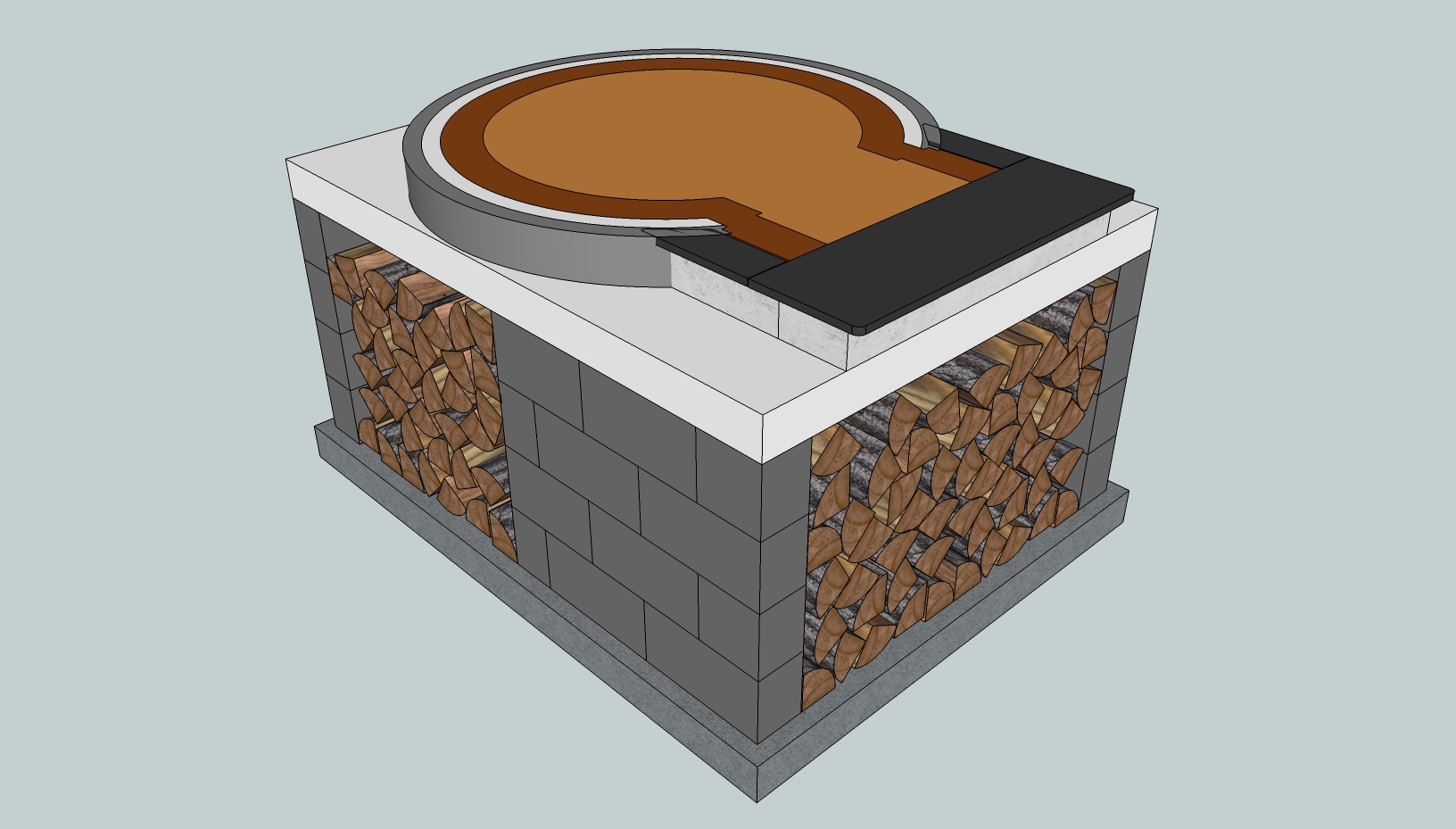 D105 Straight Stand - Side Opening
Need some more firewood storage? This layout gives you space for more than 1.5m³ of firewood with a clever opening in the side.
PRECUT BRICK OVEN KIT VIDEOS
1. SUB-FLOOR
The first step is to cut and lay the Calcium Silicate insulation board, position it on your stand and pour the Refractory Castable Sub-Floor Heat Bank on top.
2. FLOOR TILES
The second step is to lay the firebrick tiles that make up the floor of your brick oven. These tiles are all cut to size and are ready to lay, you'll bed them down into a layer of refractory mortar.
3. BUILD THE DOME
With the floor tiles laid it's time to start building the brick dome. This might sound difficult, but we have made it simple with our steel Trammel Tool. The Trammel pivots from the centre of the floor; all you need to do is lock each dome brick into the trammel using the clamp attached, and it will help you position each brick perfectly.
4. THE ARCHES
Our CNC machined formwork will help you build the brick arches that make up the Entry and Vent area of your brick oven. To complete the dome, we show you how to use the fibreglass dome formwork which you'll use to lay the last few rows of bricks, and pour your refractory keystone.
5. FLUE GALLERY, INSULATE & RENDER
With the brick dome complete you're ready to fit the PreCast Flue Gallery. With the Flue Gallery in position you can attach theCeramic Fibre Blanket Insulation. Following this you'll put on a layer of chicken wire (metal lath) and apply the Perlite Render in layers until you've built up a 2" shell over the dome.
6. CURING YOUR OVEN
Before you start cooking in your Wood Fired Pizza Oven, you will need to cure it, to drive out all of the moisture left in the oven during the building process. Here we show you some simple techniques for lighting curing fires, how big to build them, and how to keep them burning for a long time.
7. USING YOUR OVEN DOOR
In this video we demonstrate the two functions of your oven door; firstly to seal off the oven chamber, secondly as a 'draught door' to regulate the flow of fresh air into the oven, while directing all of the smoke up the chimney where it belongs.
If you need some inspiration on what kind of finishes are possible, jump to our Wood Fired Oven Gallery and browse through the various builds and stories our customers have come up with over the years.